Welcome!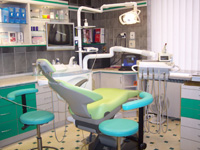 Dr. Ctibor Arnold graduated at Charles University, Faculty of Medicine in Pilsen and was awared a Doctor of Medicine degree in dentistry at the graduation ceremony in Carolinum in 1980.
He worked as a dental practitioner with dental surgery specialization in Teplice. On 15th May 1992, he was the first dentist who started his private dental practise in Czech Republic. He is a member of the following organizations: Czech dental Chamber – a member of the executive board of Regional Dental Chamber in Ústí nad Labem-Teplice, Implantology Club of the Czech Republic and Czech association of oral surgery.
In 1999 and 2002, he obtained certificates of expertness in implantology and oral surgery, respectively. In 2006, he was one of the invited speakers at the 4th Pilsen working days of maxillofacial surgery. Afterwards, he lectured on Nanoimplants – its properties and indications at the Central European Symposium, 8th Days of Implantology in Brno. He also published an article concerning the topic of nanoimplants in Stomateam Journal 1/07 and co-authored a poster presented at XIXth Congress of European Association for Cranio-Maxillo-Facial surgery in Bologna, Italy in September of 2008. In the same year he was published in an impact Journal of Cranio-Maxillo-Facial Surgery magazine.
Professional experience and activities: We carry out any operations in the field of practical dentistry, oral surgery and implantology.
Presentation Brno - powerpoint (23 MB)
Presentation Plzeň - powerpoint (23 MB)
Nanoimplantes - Acrobat Reader (0,3 MB)
Profession - nanoimplants - Immediately loading
Poster - congress (Bologna, Italy)